independently tested stormwater treatment devices
The EcoTreat product range can treat polluted run-off water, separate oil and water releasing clean water to the environment. Global Water offers two EcoTreat ranges that offer effective primary and secondary stormwater treatment.
Features of the EcoTreat:
complies with European EN858-1 Class 1 water quality treatment device
independently performance tested by the University of South Australia
discharge water quality that complies with EPA Water Quality Guidelines
cost-effective alternative
suitable for applications where hydrocarbons are released to a sensitive environment
available in multiple sizes
Environmental compliance
The EcoTreat range is independently tested and certified to EN858-1 and produces water quality of no visible trace (< 5 mg/L), this complies with EPA Water Quality Guidelines. Class 1 water quality requirements of the European Standard EN858-1 are recognised universally. Across Australia these are considered best practice by regulatory bodies and govern the design parameters of stormwater treatment.
EcoTreat Bypass Oil/Water Separator
During a low flow rainfall event, the hydrocarbons present will be collected in the first flush and then treated. In a high flow rainfall event, the water bypasses the treatment process and exits the chamber via the drainage pipe, with the hydrocarbon being diluted to acceptable levels by the heavy rainfall. The Bypass device is designed to treat the flow generated by rainfall in hardstand areas where concentrated hydrocarbons may build up over time. Areas with impervious surfaces, including carparks, light industrial and warehouses that require stormwater treatment are ideal for the EcoTreat Bypass device.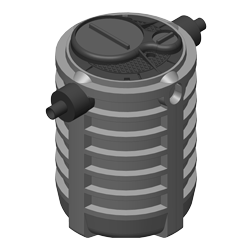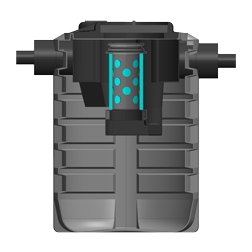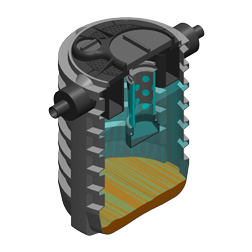 EcoTreat Full Retention Oil/Water Separator
Global Water's EcoTreat Full Retention Oil/Water Separator is specifically designed to treat and contain large oil spills, making it suitable for high risk applications such as petrol stations.
The unit has two chambers; a coalescing chamber which is fitted with an automatic closure device and the retention chamber which houses the trapped sediment.