How to maintain your grease arrestor
Do you have a grease arrestor? If so, it's important you are maintaining it regularly as to ensure effective performance and ensure compliance with your local water authority or council requirements.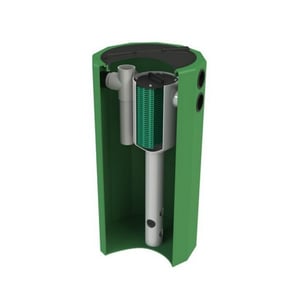 A grease arrestor is used as a pre-treatment device in the waste streams from food preparation areas. They are specifically designed to collect grease and fatty wastes by passing the waste through underflow baffles and detaining the flow long enough for solids to settling and fats to rise. Some types utilise a bio-filter that promotes microbiological activity for final polishing.
Trade waste flows containing high fat volumes can cause blockages in the sewer mains and overload Water Treatment Authorities' treatment facilities and can damage their infrastructure. Due to this risk, there are limits on percentages of grease and fat accepted into sewer mains.
In South Australia, SA Water ask all businesses generating trade waste to apply for a trade waste authorisation (Commercial food preparation and service, 2018). This allows SA Water to manage the treatment processes, maintain public and environmental health, and prevents damage to infrastructure and harm to workers. If you have recently purchased a grease arrestor to act as a pre-treatment device, it's also important you contact your local Water Authority to clarify what their registration and maintenance requirements are.
How do I ensure my grease arrestor is performing satisfactorily?
Regular maintenance of the grease arrestor maintains the capabilities and performance of the device. A build-up of oil and grease and an accumulation of solids reduces the arrestors working capacity, and results in a carryover.
The individual that holds the authorisation for the grease arrestor is the responsible person for the ongoing removal of an accumulation of grease and solids, plus the cleaning of any bio-filter and other components as required.
Your local Water Authority will have Trade Waste Inspectors or Environmental Health Officers (EHOs) who are responsible for the management of trade waste systems and the monitoring of their ongoing operation.
To ensure proper servicing, they will set a maintenance schedule to ensure correct operation and treatment capability of the grease arrestor. Depending on the rate of waste accumulation, the maintenance schedule can vary from fortnightly to annually. This is reviewed during SA Water's routine compliance audit inspections.
Servicing should only be performed by registered waste removal contractors. This process must include; the removal and cleaning the filter insert (if fitted); removal of the entire contents of each chamber of the grease arrestor, and hosing/scraping down the walls to ensure no fat build-up.
Best practise for grease arrestor maintenance
The implementation of good housekeeping and work practices, will enable you to have less frequent service calls - saving your business time money. To do so, we advise the following…
Install screening for sink/trough outlets, and floor silt traps to stop large solids getting washed down the drain: this will reduce the solids load on the grease arrestor.
Do not run discharges from an InSinkErator through the grease arrestor.
Avoid discharging large volumes of hot water - this could cause an excess carryover of grease to be flushed into the sewer.
Use only quick break detergent: These detergents do not emulsify oils and greases but enable them to separate out and be removed in the grease arrestor release emulsified oil, grease and dirt soon after discharge, allowing them be effectively separated in the arrestor.
For more information on grease arrestor requirements for your business process, visit SA Water.
If you're looking to purchase a Grease Arrestor, discover Global Water's Grease Muncher. The GM700 is a compact version, combining a conventional underflow design with a special biofilter - dramatically reducing the grease content of the discharge. Made of high-strength polyethylene, the unit is available for either below ground or above ground installation, making it ideal for temporary lease situations where it can be simply relocated.
Chat to a Global Water team member to find out more about the Grease Muncher.
Information has been collected by the Global Water team from SA Water - South Australia's water authority. For more information on SA Water's requirements, visit their website.
Tags: SA Water, GM700, Grease Arrestor, Trade waste